Description
Shed Type And Roof Size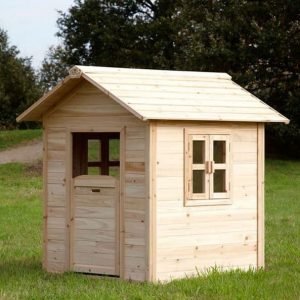 The 4 x 3 Noa Axi Playhouse would work very well as a child's first playhouse. It has a fantastic and friendly look to it and we are sure you are going to be saying aww an awful lot when you see your kids playing inside it. One of the things that we love about this playhouse is how it is an ideal size for younger children. It will feel large to them, but it is not going to take up the whole garden. The width of the playhouse is 4 feet 5 inches this is the size of the actual structure so the inside is just a few inches smaller than this. The depth is 3 feet 3 inches and this compact depth is going to make it fit into even smaller gardens very well. Height wise, kids will have plenty of headroom as there is an impressive, 4 feet 3 inches of headroom.
Axi have one of the best roofs on any playhouse, we have seen them use this wooden, tongue and groove style roof before and it never fails to impress us. An apex roof is always going to prevent rain from getting inside as the angle of it prevents it from sitting and pooling on top.
Cladding,Frame & Floor
The 15 mm tongue and groove shiplap cladding is some of the thickest cladding we have seen on any playhouse or shed for that matter. The cedar wood has a fantastic look to it and we really do like how smooth and stylish it is. As well as the clearly attractive design of this cladding it is also very practical as it will keep the bad weather out very well.
Something that we have seen a few times from this manufacturer now is the 38 mm timber frame. This is just so solid and it will be what makes this a playhouse that your kids can use for lots of years. Not only that, but we see this playhouse something which could be passed down to younger siblings or other family members as this frame will stay in tip top shape for many years.
Now for the flooring, well there is no floor. This playhouse will just sit on the grass, concrete, decking or whatever surface you have. This is both good and bad, good in that this is part of the reason the playhouse is able to be sold at such a low price. Bad because if you only have grass, you most likely will not want that as a floor and have to figure something out like perhaps purchasing some cheap boarding for it to sit on
We can supply a Floor at extra costing
Treatment Requirement And Warranty
Treating the playhouse is essential if you want to keep the wood free from rot. We always suggest that wood treatment should be applied within a week of installation. Also a fresh coating once a year is something you will want to do to ensure no rot or any other issues arise with the wood.
Doors And Windows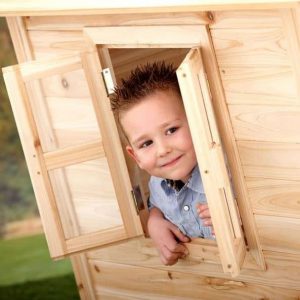 There is a very interesting door on the 4 x 3 Noa Axi Playhouse. They have used a swinging barn style door and in many ways it resembles the kind of door you would see on an old Western saloon which will be ideal if your child wants to pretend to be Woody or Jessie from Toy Story. We really do love the look of this door, but it does leave part of the playhouse exposed to the elements which may concern some people. It will certainly make you not want to leave more expensive items inside here.
Each side of the playhouse has a window and we really do like what they have done with these windows. These windows can be opened and they close with a very clever magnetic catch which makes them shut very securely, but it also means the kids will be able to open them very easily. The windows are glazed with acrylic, but this is very high quality acrylic that is shatterproof. To be honest with you, we are very surprised that they were able to have these windows on the playhouse and keep the price so