Description
We really like the ladder that is on this playhouse. It is quite high so boys and girls will love scaling this over and over again. It is made with these very thick rungs so climbing it will be easy. The decking area is quite long, but it is also very safe thanks to there being a railing along the side. The slide is one of the longest we have seen and we have no doubts that the kids are going to love this. Interestingly at the very top of the slide is a small wooden bar to stop them from falling down the slide while they are playing on the decking. While this is there as a safety measure, we are sure the kids will use it to throw themselves down the slide at an even greater speed. Under the playhouse is a large sandpit which is sure to get a lot of use during the summer months.
The roof on this playhouse is kind of two in one and we know that it sounds and looks weird, but it works very well with the style of the house. First of all there is a high apex roof that is made with wood. This has a great look, sticks out over the decking and it even has a fake chimney on it. Now to the right of this there is another, pent style roof that is on the extra part of the playhouse, again this is made with wood and we love how well it goes with the rest of the playhouse.
We are sure the cladding on the front of the playhouse caught your eye and no you are not seeing things it is in fact at an angle whereas all the rest is horizontal. It is just another wacky design on this playhouse and we love it. At 15 mm thick, the tongue and groove shiplap cladding is going to stop rain getting into the playhouse and it is also thick enough that it can take a bit of a beating off the kids as well.
With the frame being planed smooth and 38 mm thick, Axi have really given this playhouse a set of bones that are very strong and will keep the playhouse standing sturdy for many, many years. It ensures that the playhouse can handle wrestling matches from the boys and Frozen dance parties from the girls.
We really like how thick the flooring is in the playhouse and on the decking as well. It makes sure the kids can have a fun time and also put a whole lot of toys and even some furniture in here as well. If you look closely at the pictures, you can see how solid the base that is supporting the floor is.
Treatment Requirement And Warranty
A full coating of wood treatment should be applied within a week of installation. We know many people who have put this off until the next weekend, but the next weekend never comes and before they know it, rot has set in. Just one coat a year is all the maintenance you will have to do in order to keep this rot free.
The 14 x 6 Max Axi Playhouse comes with what we feel is a very generous, five year manufacturer's guarantee. We doubt you will have to use it, but at least it is there.
Doors And Windows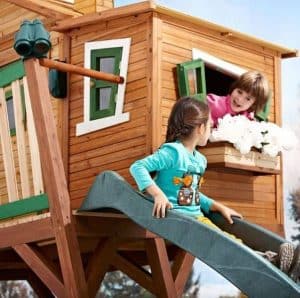 The crooked looking door really does stand out in a very positive way and we think that due to it being close to the centre of the playhouse it makes its stand out even more. We just love this door for not just how tall and wide it is, but because of how fun it looks as well. It even has a little window on it so the kids can look out and decide if they want to answer the door.
There are windows all over this playhouse so there is always going to be plenty of natural light inside. All of the windows which can be opened do so with these strong magnets. This makes them shut securely, but it also makes them be easy to open. Anti shatter acrylic is used instead of glass which was a smart and safe design choice. The front of the playhouse has three windows which includes the one on the door. One of these is fixed and the other is smaller, but can be opened. The sides and the back of the playhouse have a large double opening window so there will be plenty of fresh air getting in the playhouse which if the kids leave their ham sandwiches or hot dogs in here for a few weeks will be a good thing.
Security and Privacy
With this being quite high and thanks to the door and the windows closing quite firmly, we are actually very surprised at how secure this playhouse is. Security is not something we really look for when reviewing a playhouse, but this one here is more secure than most which is a nice added bonus.
Anything that looks as awesome as this is always going to get a lot of attention so your kids better get used to people wanting to look at their playhouse when they come over. This is not a big deal and we are sure the children will be more than happy to show off their playhouse and also tell you how it is better than your own home.
Accessories Available
Lookout Telescope €20
Letter Box  €22
Steering Wheel €15
Telephone €18
Safety hand Grips  €12